The words 'till death us do part' do not apply to a bride and groom who were married recently AFTER they had died.
In 2008, the family of a nineteen year old youth from Segamat in Malaysia was seeing a spiritualist and through this medium they were told that their son, during the Hungry Ghost Festival, had met an eighteen year old girl who had died in 1973 following an illness.
The boy was killed in a car accident in 1996 but the medium relayed to his family that he had met the girl of his dreams and that he wished to marry her. The family did not take the messages seriously but over time, the boy's mother became unsettled about the message and in April 2009 decided to visit with the medium once more.
One the family approved of the 'marriage' the special ceremony was arranged. The traditional Chinese wedding ceremony took place and the bride was represented by the medium who also served tea to the family elders and the young boy's brother represented the groom.
Hungry Ghost Festival
This is a traditional holiday celebrated by the Chinese which takes place during the seventh lunar month on the fifteenth night. This night is known as 'Ghost Night' and it is believed that ghosts come to visit the living.
Some women search for years until they find their Mr Right but one lady from south London not only found the right man for her, but did so on the World Wide Web, along with everything else they needed for their big day.
Thirty One year old Hannah McKenzie is a website editor who loves to spend time browsing on the internet. She met thirty three year old Chris Isaacson, a video engineer, on a dating website. She had had some disastrous relationships in the past and decided to give the dating site a chance. After her free three day trial was up she had decided to close down her account when she spotted Chris's message and took an interest in him as he looked like a bit of a Goth. She responded and a short time after they met up in a Tapas bar and clicked straight away and in less than four months Chris proposed and Hannah instantly said yes.
When Hannah's friends found out that she was getting married they were understandably excited at the thought of helping her with the organisation, the hunting for wedding dresses, flowers and cakes etc. On finding out how Hannah planned to organise her day they were of course disappointed and tried to convince Hannah that she would be missing out but she would not be swayed. As the internet was the source of their meeting, Hannah was determined that the best way to organise their day was using her laptop.
For less than ten thousand pounds Hannah was able to purchase her dress, the flowers, rings and even the wedding license for their Grand Canyon ceremony. She had organised a helicopter ride along with balloons, invitations and a limo, all from the confines of her own bedroom.
The couple celebrated their internet wedding with an internet booked disco reception at the Barn Hotel in Ruislip, Middlesex with ninety of their friends and family.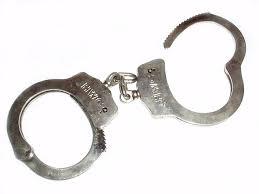 A groom enjoying his wedding reception in Louisiana was arrested for obstruction of police as well as disturbing the peace just twenty minutes after his wedding ceremony had taken place.
Fifty three year old John Lucas and his new bride were at the Crystal Plantation in Kenner which has a formal dress code.
The groom's nineteen year old nephew Samuel Lucas was attending the wedding in what was thought to be inappropriate clothing. An off duty police official had asked the teenager to sort out his baggy trousers by pulling them up over his underwear. Walter Lucas the teen's father stepped in on his son's behalf when a scuffle broke out. John subsequently became involved in the fight in defence of his brother and nephew.
It was reported that John was trying to prevent the policeman from grabbing his handcuffs and when Samuel objected he was squirted with pepper spray. The office called for back up and all three men were placed under arrest.
Leonard Dazet, the owner of the Crystal Plantation stated that everyone signs a dress code contract before their wedding and all Samuel had to do was "pull up his pants".
'Aaarrgh Do!' could have been the words spoken at a pirate wedding recently which took place at the Breezes Resort at Runaway Bay in the Caribbean.
The couple from Kelowna in Canada were celebrating ten years together. They had been married in the garden's gazebo at the resort in March 1999 and decided that they would renew their vows at the same place.
Robert and Paula St Onge have fond memories of their first wedding location and were keen to return for their renewal ceremony. They were married on the 12th of May wearing full pirate costumes including eye patches and bandanas in front of their friends and family members who were also dressed in pirate costumes.
The club has over one hundred renewal and wedding ceremonies planned in May, each with its own personal and exciting theme. Their resorts offer couples beautiful locations and wedding specialists on hand to help out with their special day.
Many women would panic to see their wedding ring missing from their hand. Whilst most would not even contemplate taking it off as once it is put on by their husband they won't remove it but sometimes they are lost all too easily.
Jean Fernadez from Florida threw her wedding and engagement rings away by accident along with a hundred year old ring that belonged to her granddad. It took her a whole day to realise that they were no longer in her possession and as soon as she did, her husband Frank called the solid waste department.
On hearing the predicament, Christopher and his colleague Guillermo stopped what they were doing and went straight to the landfill and began rummaging through the waste. They were not hopeful of finding the rings but continued to search through the overwhelming pile of rubbish anyway.
Frank and Jean made their way to the landfill and after two hours of searching the rings were finally found. Jean through her tears could not express her gratitude to the two men but they believe they will be rewarded in life by doing good things for others.
Jean has been very lucky; this is a rare occasion that such small items were found in such a huge mass of rubbish.
How you met your partner is a story you are happy to share and that you want to tell to your future generations. It doesn't usually start with a meeting that ends up in A&E though!
Two years ago, twenty seven year old Caroline Dawes who is a vet was called out to Stuart Perry's Dalwood farm in Devon to help with a cow that had become trapped. The frightened animal reared up and knocked into Caroline who subsequently fell into a heavy gate which then landed on Stuart. Twenty four year old Stuart was knocked unconscious and was rushed to the Accident and Emergency department.
Caroline jokingly admits that it was all a big plan she had to enable her to talk to Stuart again outside of the working environment.
Stuart, once the former Chairman of the Honiton Young Farmers' Club has no regrets about how the young couple first met and in fact has praised the cow for its intervention.
Two months ago the couple entered a Radio competition and did make it to the top five but unfortunately did not win.
The couple are in agreement that even though they started off on the wrong foot that they are a "match made in heaven".
Ian Platt, a fifty one year old man from Leeds almost outshone his bride-to-be at their wedding recently when he too wore a wedding dress along with a blonde wig.
The couple met after joining a dating agency in October 2007 and early into the relationship Ian confessed to fiancée Lisa that he enjoyed wearing women's clothing. Ian is a transvestite customer care adviser and forty two year old Lisa is a medical secretary and they were married at Leeds Town Hall.
During the wedding ceremony Ian wore a traditional morning suit which was out of respect to his new family but just before the reception, he changed into his white dress, which he had purchased from Ebay, and a blonde wig to become 'Susan'.
Their reception for one hundred guests was held at the nearby Viaduct Hotel. They had two cakes to cut, the first being very traditional showing their names 'Ian and Lisa' and the other was decorated 'Susan and Lisa'.
Lisa and Ian know that a lot of people do not understand why they are together but they both try to enjoy their life and every day that they have together. They danced together as 'bride and bride' and continued their traditional wedding with speeches and the throwing of the bouquet.
Not everyone gets the chance to be able to dress as both the bride and groom for their own wedding and Lisa, Ian and Susan would not "have it any other way".
Due to the Swine Flu epidemic spreading around Mexico, Alastair McKirgan and his wife Sandra from Portstewart have had to miss their son's wedding.
Their son James and his wife Davina (nee McKee) were taking a tour around Mexico and the week before the wedding they flew to Cancun to make their final preparations but as many flight companies had cancelled flight plans, James's parents were unable to fly out to Cancun to join up with them.
James is a design engineer and Davina is a clerical officer originally from Lisburn, both are in their late twenties.
Sandra had spoken with her son to relay their sad news and James had informed her that they would be staying for the planned duration of their stay as they had been informed by their travel agency that if they decided to come home early they would not be able to claim for any compensation. The couple's wedding went ahead with only the bride and groom present as their family and friends were also banned from flying.
Sandra and Alastair had contributed to the cost of their tour around Mexico as part of their wedding present and now the couple, along with other loved ones, will have to rely on any photographs taken on the day. The original plan was to have the small wedding over in Cancun and then they would have a blessing in a local church on their return, after which they would organise to go on honeymoon.
Obviously they are extremely disappointed to have missed their son's wedding but the young couple are due back on the 30th of May and they will be surrounded by family and friends for their blessing.
Donna Wolsfelt, a bridal shop owner died on Tuesday 12th May 2009 of blood clot issues aged seventy six after almost forty years of helping brides-to-be with their wedding gowns. Donna had been happily married to her husband Don for just over fifty five years and between them they had three children, a son and two daughters.
Don Wolsfelt was the proprietor of Wolsfelt's Floral Shop in Aurora, Illinois when they first met and Donna began working at the shop and this is where she came up with the idea of being involved with wedding dresses. Don built a balcony inside of the shop and from here, she began selling the gowns. Wolsfelt's Victorian Bridals opened in the early 1970's and this long running boutique helped many women and future generations to look beautiful on their special day.
Donna Wolsfelt was a mother and a business woman. She received an Outstanding Bridal Retailer of the Year award in 2003 at Chicago's Field Museum as part of the Distinctive Excellence in the Bridal Industry Awards.
Vicki Wolsfelt, Donna's daughter commented that she was loved by everyone and was a very classy lady. Her mother was a person of high morals and she tried to pass these same standards down to her children. Up until a week before Donna died she played an active part in the business which is now managed by her daughters Vicki and Dawn.
This woman gave years of her life making brides very happy and feeling like princesses on their wedding days.
Hearing how a few lucky couples have won their dream wedding brings a smile to our faces and on some occasions I'm sure many of us wish we could have been so lucky.
One such lucky couple are overjoyed to have won their wedding not only because it will be free but because the place where the ceremony is to be held in holds a special historical meaning within the bride-to-be's family.
Melissa Vartanian heard how a local TV show was holding a contest for a free wedding to be held at the exhibition of artefacts from the Titanic at the Milwaukee Public Museum and knew it was a great chance to host a tribute to great-grandfather David who was a passenger on the ill-fated voyage.
Thankfully David survived the tragedy of the Titanic when it collided with an iceberg and sank; causing the dreadful loss of life for so many.
To bring the wedding even more in line with the family history Melissa is planning to wear her mother's wedding dress and possibly her grandmother's wedding ring.
Winning the contest has taken away a lot of the strain and costs towards the wedding and the TV show has asked viewers to vote on the wedding hairstyle and the bridesmaid gown which leaves the paying of the wedding cake, reception menu and the flowers to the bride and groom.
Melissa told the Milwaukee Sentinal her great-grandfather's tale was "the greatest love story I knew growing up."
"It's become an important story to me too, now," groom Vache Mikaelian added.