Adele Hendry works in Chichester at the Creations Salon as a hair stylist and when she was approached by the Salon's manager, Jayne Hughes about the possibility of singing at her wedding last month at the Millstream in Bosham, she jumped at the chance, and went on to raise more than five hundred pounds for a local charity.
Adele sings in a band and would love to be a professional singer. Jayne asked Adele to sing 'You Light up My Life' by LeAnn Rimes during their first dance and after finishing the song, she received requests from the wedding guests to continue singing. She agreed but only if the guests were prepared to donate money to charity and she planned to raise at least one hundred pounds.
Jayne stated that her new husband Lee was shocked at what a good voice Adele had, particularly as he did not know she would be singing at the wedding. She also commented that the guests thought Adele was fantastic and her voice had moved many of them to tears.
The bride's father was the first to donate a large sum of money and before she knew it, Adele was overwhelmed with donations taking her total to over five hundred pounds, well over her intended figure.
The money raised by Adele after becoming a wedding singer for just one day was handed over to Jill Dennison, the fundraising manager for St Wilfrid's Hospice in Chichester, West Sussex.
Having found the perfect dress for her wedding day, twenty five year old Kelly Faulkner was extremely distressed to find, just a month before her wedding that the dress had shrunk!
Kelly and her fiancé Scott Whiley met in Ibiza while on holiday three years ago. Kelly, who is an air hostess for Monarch Airlines, found her dress last year and knew it was the perfect one for her when she tried it on as it fitted so well, but as she brought it off the shop rail she sent it away to be dry-cleaned. The dress had been hanging up waiting for the big day to come around and last month, after having a test run with her hair and makeup, Kelly was persuaded by her mother, Val Faulkner, to try it on to see how she would look.
To Kelly's horror, the dress would not go across her back and was a few inches shorter than it should be. In her quest to find answers as to why the dress shrank, she started at the dry-cleaners who advised her to take her dress to Ilkley in West Yorkshire where a technology centre might be able to help. They reported that the manufacturer was at fault due to the garment being altered along the side of the bodice. The shop where she purchased the dress would not accept liability, leaving bride to be Kelly with a wedding dress that was no good to her.
The wedding is to take place at St Elphin's Church in Fairfield on 19th June 2009 and thankfully Kelly has found a replacement dress.
This situation I would have thought is a case of contacting the manufacturers to reclaim the money!
A couple from Cuddington in Northwich decided that as they didn't like cake too much they would have a large pork pie in place of their wedding cake.
Amy and Andrew from Delamere Park got married in Knutsford at Tabley House and got the idea to have the pork pie, which had a diameter of over thirteen inches, from a wedding they had both attended many years before when instead of cake there was a large pile of pork pies. The reception for their forty guests was held in the Longview Hotel and the couple's honeymoon was planned to be a safari and a scuba diving holiday.
Thirty seven year old Andrew Doyle originally from Wigan works in Manchester as a Police Officer while his new wife Amy is a doctor. The couple met eight years ago during a training course for the prison service.
The pie was made by C Webb & Son after extensive searching and tasting from butchers all over Northwich and during the reception was placed on a traditional stand ready for when the couple 'cut the cake'. Steve Jarvis, the butcher responsible for making the pie was surprised when he initially heard the couple's request but thoroughly enjoyed the task of making it, even though it took over five hours to cook.
Forty Nine year old Robert Leigh and his wife Gillian Hudson, forty three, were married in South Africa but on their return to London, where they subsequently split up, a London High Court Judge decreed that their wedding was not in fact legal in the eyes of the law. His ruling means that should Gillian decide to file for divorce she would be unable to do so and in fact would not even been able to file for a settlement of any kind.
Robert and Gillian's romantic ceremony was held on top of a rooftop overlooking the sea and was performed by a priest. They exchanged rings and said their vows and they even had a reception for their guests. Apparently the couple had arranged with the priest before the ceremony to slightly change the wording so that it purposely did not comply with the matrimonial laws.
The words used basically asked the couple if they took each other and they responded that they did and they then placed rings on each others fingers. There was no mention to guests about asking if anyone knew of any impediments why they shouldn't get married and nor was there a declaration of their marriage to state that they were lawfully wed.
The couple have a four year old daughter together, which Gillian can claim maintenance for, and they had promised her that they would have a civil service when they got back from South Africa but they parted ways before this could be arranged.
A newlywed couple decided to go for a quick surfing session during their wedding reception only to find themselves caught at sea and had to be rescued.
The couple from Cornwall were enjoying their wedding reception which was being held at Porthtowan at the Blue beach bar. Part way through the celebrations the groom decided that he would like to go surfing and his new bride joined him for a quick swim. Strong currents swept the couple further into the sea however the bride was able to grab hold of some nearby rocks and hang on.
They were saved by some off duty RNLI lifeguards, John Craze and Ben Sowter who rescued first the bride and then the groom. They had been packing up for the day when they heard the alarm and instantly made for the water each grabbing a rescue board along the way. Ben managed to get the bride onto the beach where they were met by RNLI lifeguards Kian Harris and Adam Bunt who took care of the wet bride, he then swam out to join John who was swimming after the groom as he had been caught in particularly strong currents which were taking him around the headland corner. Once they caught up with him, the pair were able to place the groom on the rescue board and then faced an hour long swim back to shore through the choppy seas.
As they got closer to land they were supported by a number of other surfers. Ben stated that there was no way that the groom would have been able to swim back to shore all by himself. The bride, groom and wedding guests were of course extremely grateful for the rescue.
RNLI
The RNLI is a charity with over 70 lifeguarded beaches throughout the UK and Ireland and 230 lifeboat stations. Their advice for surfers is to always have a leash and should you encounter any problems, never leave your board if you can but if you do, shout as loud as you can with your hand raised up above your head. The RNLI saves an average of twenty one lives each day.
The words 'till death us do part' do not apply to a bride and groom who were married recently AFTER they had died.
In 2008, the family of a nineteen year old youth from Segamat in Malaysia was seeing a spiritualist and through this medium they were told that their son, during the Hungry Ghost Festival, had met an eighteen year old girl who had died in 1973 following an illness.
The boy was killed in a car accident in 1996 but the medium relayed to his family that he had met the girl of his dreams and that he wished to marry her. The family did not take the messages seriously but over time, the boy's mother became unsettled about the message and in April 2009 decided to visit with the medium once more.
One the family approved of the 'marriage' the special ceremony was arranged. The traditional Chinese wedding ceremony took place and the bride was represented by the medium who also served tea to the family elders and the young boy's brother represented the groom.
Hungry Ghost Festival
This is a traditional holiday celebrated by the Chinese which takes place during the seventh lunar month on the fifteenth night. This night is known as 'Ghost Night' and it is believed that ghosts come to visit the living.
Some women search for years until they find their Mr Right but one lady from south London not only found the right man for her, but did so on the World Wide Web, along with everything else they needed for their big day.
Thirty One year old Hannah McKenzie is a website editor who loves to spend time browsing on the internet. She met thirty three year old Chris Isaacson, a video engineer, on a dating website. She had had some disastrous relationships in the past and decided to give the dating site a chance. After her free three day trial was up she had decided to close down her account when she spotted Chris's message and took an interest in him as he looked like a bit of a Goth. She responded and a short time after they met up in a Tapas bar and clicked straight away and in less than four months Chris proposed and Hannah instantly said yes.
When Hannah's friends found out that she was getting married they were understandably excited at the thought of helping her with the organisation, the hunting for wedding dresses, flowers and cakes etc. On finding out how Hannah planned to organise her day they were of course disappointed and tried to convince Hannah that she would be missing out but she would not be swayed. As the internet was the source of their meeting, Hannah was determined that the best way to organise their day was using her laptop.
For less than ten thousand pounds Hannah was able to purchase her dress, the flowers, rings and even the wedding license for their Grand Canyon ceremony. She had organised a helicopter ride along with balloons, invitations and a limo, all from the confines of her own bedroom.
The couple celebrated their internet wedding with an internet booked disco reception at the Barn Hotel in Ruislip, Middlesex with ninety of their friends and family.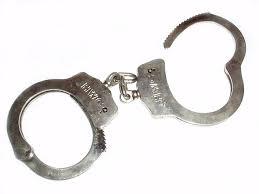 A groom enjoying his wedding reception in Louisiana was arrested for obstruction of police as well as disturbing the peace just twenty minutes after his wedding ceremony had taken place.
Fifty three year old John Lucas and his new bride were at the Crystal Plantation in Kenner which has a formal dress code.
The groom's nineteen year old nephew Samuel Lucas was attending the wedding in what was thought to be inappropriate clothing. An off duty police official had asked the teenager to sort out his baggy trousers by pulling them up over his underwear. Walter Lucas the teen's father stepped in on his son's behalf when a scuffle broke out. John subsequently became involved in the fight in defence of his brother and nephew.
It was reported that John was trying to prevent the policeman from grabbing his handcuffs and when Samuel objected he was squirted with pepper spray. The office called for back up and all three men were placed under arrest.
Leonard Dazet, the owner of the Crystal Plantation stated that everyone signs a dress code contract before their wedding and all Samuel had to do was "pull up his pants".
'Aaarrgh Do!' could have been the words spoken at a pirate wedding recently which took place at the Breezes Resort at Runaway Bay in the Caribbean.
The couple from Kelowna in Canada were celebrating ten years together. They had been married in the garden's gazebo at the resort in March 1999 and decided that they would renew their vows at the same place.
Robert and Paula St Onge have fond memories of their first wedding location and were keen to return for their renewal ceremony. They were married on the 12th of May wearing full pirate costumes including eye patches and bandanas in front of their friends and family members who were also dressed in pirate costumes.
The club has over one hundred renewal and wedding ceremonies planned in May, each with its own personal and exciting theme. Their resorts offer couples beautiful locations and wedding specialists on hand to help out with their special day.
Many women would panic to see their wedding ring missing from their hand. Whilst most would not even contemplate taking it off as once it is put on by their husband they won't remove it but sometimes they are lost all too easily.
Jean Fernadez from Florida threw her wedding and engagement rings away by accident along with a hundred year old ring that belonged to her granddad. It took her a whole day to realise that they were no longer in her possession and as soon as she did, her husband Frank called the solid waste department.
On hearing the predicament, Christopher and his colleague Guillermo stopped what they were doing and went straight to the landfill and began rummaging through the waste. They were not hopeful of finding the rings but continued to search through the overwhelming pile of rubbish anyway.
Frank and Jean made their way to the landfill and after two hours of searching the rings were finally found. Jean through her tears could not express her gratitude to the two men but they believe they will be rewarded in life by doing good things for others.
Jean has been very lucky; this is a rare occasion that such small items were found in such a huge mass of rubbish.